Tips & Tricks Party #83
Hello!  If you are new to my page, welcome! :)
Thanks for joining us for this week's Tips & Tricks!  We'll start with the host favorites from last week's party, and then be sure to check out all of the new links for this week! Also, our giveaway is still going on, so check that out as well!
Most Clicked:
10 Tips for Success in Online Classes from Crafting in the Rain
Host Favorites from Last Week:
Kathleen (Fearlessly Creative Mammas) – Chicken Parmesan Meatball Casserole from Lou Lou Girls
Gabby (Not Too Shabby Gabby) – Pancake Muffins from Penny Pincher Jenny
Krysta (KrystaSteen.com) – How to Cook Rice Perfect Every Time from The How To Guru
Jessica (My Life By Jess) – Blueberry Recipe Roundup from Dreaming of Leaving
Cassie (Southeast by Midwest) – Lemon Coconut Granola from Courtney's Cookbook
Copy & Paste the code (below) to let your readers know to come over & party with us!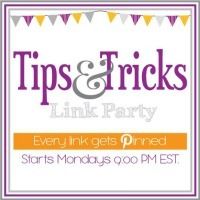 If you were featured, grab a button (below) to brag about it!