Thrifty Thursday
Welcome to another edition of Thrifty Thurday! Every week I team up with a few of my bloggy friends to showcase your posts from the week. Post once, and your link shows up here on KrystaSteen.com, JuliaKendrick.com, Emmy Lane, From Nature to Nurture and Healthy Higgins! Score!
Make sure you stop back tomorrow, or better yet FOLLOW ME ON FACEBOOK because starting tomorrow I'll be doing an awesome giveaway and you don't want to miss it!
Here's a post I did this week on How to Organize Basement Storage:
And here were my favorites from last week's party – make sure you go check them out and show them some love! :)
Family, Home and Life shared how to make Strawberry & Banana Jam:
The Messy Roost made this awesome Chalkboard Lazy Susan – what a great idea!
Last, but certainly not least is this delicious looking Guacamole from Princesses, Pies & Preschool Pizzazz. I could go for some of that right now!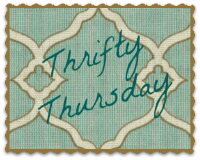 Okay, let's see what you've got!